So after a couple of days of rest, I have decided to dramatically provide you with an epic conclusion to the tale of The Tea Club's mini-tour with Beardfish.
So here it is.
The Magic Room had added even more disturbing decorations since the last time we were there. Also, there was an even cooler light show when we played.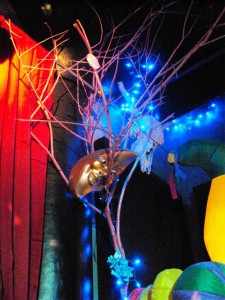 This is the set list we played at The Magic Room:
1. Astro
2. Firebears
3. Mister Freeze
4. I Shall Consume Everything
The Magic Room is a very different sounding venue than Roxy and Duke's, so it was a bit of an adjustment, but we played well (my effects pedals didn't destroy themselves in the middle of a song this time, so that was a plus). The most surprising thing for me was that I was able to see perfectly what I was playing on the guitar, despite the extreme lights effects that were occurring throughout our entire set. It was definitely otherworldly. "Mister Freeze" was the best song in our set I think, and it really benefited from the lights.
Beardfish played after us, and once again, they were incredible. By this time we had become a little more familiar with their songs, so I had the most fun watching them that night. I have to say that "Until You Comply" might be my favorite Beardfish song, that and their new songs. There is one new song that they played all 3 nights, and it is AMAZING. Rest assured, the new Beardfish album is going to be SICK.
After their set, we hung out with Beardfish one last time before they set out for the Terra Incognita Festival in Canada. We had some champagne and talked about music and life, and how we hope to one day cross paths again soon. I'll say once more how much of an absolute pleasure it was to play these shows with Beardfish. It was an honor to meet them, hang out, share the stage, and witness them perform 3 amazing sets of their fine music. They're just the coolest. I miss those guys already!
The next day was mostly spent driving, with LOTS of being stuck in traffic. I tried to pass the time by putting on as much Beatles music as possible, but at a certain point we ran out, and me, Charles, Earl Grey, and Becky couldn't help but begin to go slightly insane. Finally, after about 8 hours on the road, we arrived at the New Jersey United Christian Academy for the last show of our mini-tour. The school is in Cream Ridge, NJ, which is a shockingly beautiful and Narnia-like area of New Jersey. While we were there, we stumbled across a cool place in the woods, and stopped to take some band pictures before our set.
The show we played was for an event called Traffick Jam NJ, whose mission is to raise awareness about human trafficking. I would strongly recommend that you look into this website, thea21campaign.org, and learn about this. Human trafficking is probably the most evil thing occurring on the planet right now. This is actually happening, and the statistics are disgusting. Like it says on their website, "Life for a victim of sex trafficking is hell on earth."
Playing at this event was an extremely sobering experience and not the way I pictured ending our mini-tour, but I'm glad that we did it. The show itself went very well. Everyone was extremely supportive of us and seemed to really appreciate us playing there. But I'm just glad that we were able to contribute to this cause, even if it is in a small way. It felt great to use the passion I've been given for music for a cause that really genuinely goes out and helps people and doesn't just sit around and talk about how bad things are. It's inspiring. I can only hope that I will take some of that desire to help people with me. Also, our good friend Drew Murphy played a beautiful solo acoustic set. Drew has the voice of an angel. I only wish he had played for longer!
This is the set list we played:
1. A Wasp in a Wig
2. Simon Magus
3. Oz Style
4. I Shall Consume Everything
I don't want to pretend to be an expert on this subject, because I'm not. All I did was go up and play music at this show. But before I end this post, I just want to share a statistic that I read:
-Human trafficking is the second largest global organized crime today, generating approximately 31.6 billion USD each year. Specifically, trafficking for sexual exploitation generates 27.8 billion USD per year.
They have a list of really simple and easy ways that you can help with the cause. One of them is just writing a letter to the human trafficking victims who have been rescued. It's something that anyone can do, just as encouragement for these poor women! Seriously, go to this website. thea21campaign.org.
In conclusion, I wanna thank Beardfish (Rikard, David, Robert, and Magnus), Ray Loboda, Jon P Yarger, Robert and Carol Rizzolo, Mike Potter, James W Robinson Jr, Robert Bony Marone, Joe D'Andrea, Alan and Amy Benjamin and the rest of the NJProghouse crew, Gron, Dasher, and Nos, Robert Walton, Shaun Haughey, and Alexa O'Neill, our new friends at Panera Bread, Wendy, The Fairy Shop, Krampinators, Al Baillargeon and the NEWears crew, Drew Murphy, Sarah Woods and everyone at Traffick Jam NJ, Goat and the Trinity Motorcycle Ministry, and the A21 Campaign!